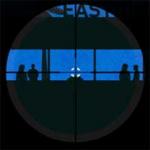 Sniper Year One
As the ultimate sniper at Friv online 2018, you will have a number of assignments to undertake. Will you be able to accomplish all of those tasks? In order to win a tactical shooting game like this, the players need to recognize all of the targets and shoot them with precision. Most of the tasks will be to shoot down a certain target or some enemies.
Your mark is calculated based on the accuracy and precision of your shot, so it's very important that you aim carefully and do your best. Remember that any shot outside the kill zone will count as a miss, which results in a lower score. For a perfect headshot, you will have 100% accuracy, while it's just 50% for a body shot. Don't worry if you haven't gotten used to the game. You can try out the easy mode first to learn all the basic skills and rules.
After you master it, challenge yourself with a hard mode to gain some extra scores as a bonus. The higher the risk, the higher the return. Another cool feature is that you can utilize the telescope to scout the area and the map at http://www.friv.land. This will make it easier to spot the enemies. Are you ready to shoot down some leaders of the terrorist, some assassins and drug dealers? The targets will vary depending on the level.
Try out some other shooting games to improve your skills such as Secret Mission and Dragon Ball Z Dark Day
Controls: Move the sighting telescope with your mouse and shoot with the left mouse button. Press space to toggle the scope.
www.friv.land
Rating:
4.6666666666667
out of
5
based on
3
user ratings