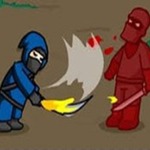 Souichiro Masterblade
Souichiro Masterblade is nothing short of a fighting game at Friv.land. You are in deep water. Your life is in danger. You save yourself and rescue everyone from an evil demon. Blading skill is your advantage. Make use of it to beat out the monster. Souichiro Masterblade game of sfriv makes players contented.
Souichiro Masterblade free game brings you to a peaceful village in a mountainous area. You see a flame in the woods. You can choose the difficulty level and quality. Levels are easy, medium or hard. The quality is low or high. Players go to Japanese countryside, Souichiro village specifically. The people were captured by the insidious army of bad guys in sfriv games. Your duty is to save them and take revenge on that monster.
Pick a character to begin the game. Three characters are available. They are a ninja, farmer, and businessman. You have to win levels to unlock the next characters. If you become a ninja, you will wear black clothes and hold a sword. The game provides you with some kinds of weapons such as 10 shurikens, 2 grenades, 10 coins, and 2 potion bottles on sfriv juegos player games. Use them to defeat enemies.
There is a red health bar showing your life. If you are cut by rivals, you lose percentage in that bar. When the bar is out of red color, you will die. Be careful! The game has many levels. You complete them one by one. A green bar shows the progress of missions. When that bar is full of green color, you shall finish a level and go to the next one of sfriv online games.
Monsters come to you one by one or in groups. Move fast and fight fiercely to kill all of them. Players get points after murdering one minion. A gold coin appears after a demon's death. Collect it to expand your asset. You embark the journey to rescue villagers. Chase enemies and slaughter them. Go into the forest. After winning a stage, you see the number of captives rescued, money gain, and experience earned. Try to improve strength, amour, and speed.
Do your best to do your missions and save villagers. The fight is so hard and dangerous. You can find more fighting games like Humaliens Vs Battle Gear 4, Super Brawl 2, and Wolverine The Last Stand at http://www.friv.land/. Comment, share and rate them.
Controls:
Navigate by using arrow keys.
Use W A S D to use weapons and behead.
Use Space to jumps.

www.friv.land
Rating:
5
out of
5
based on
1
user ratings