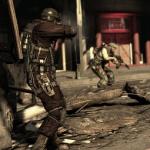 Special Forces
What do you expect in a shooting game? Well, maybe you will find all you need in Special Forces - one of the best shooting games that you have ever played at free friv Games. You won't team up with other players to defeat enemies in the fierce battles but you fight as a lone wolf. Are you able to shoot down a horde of enemies equipped with hi-end weapons? Take advantage of weapons, your skill and the terrain to deal with them.
Test your shooting skills in two different modes including Assault mode and Defence mode. Each brings you different gameplay. You will face 100 waves of enemies in each. How can you survive when wave after wave of enemies coming to you? Attack, cover, defend yourself wisely. Use different weapons and strategies to get the best fighting result on http://www.friv.land/.
Cover yourself to avoid the enemy's attacks and attack them as quick as you can. Remember that you have a limited amount of health. If you get shot, your health bar drops. When the health bar empties, you lose. Your enemies are crowded while you have no one besides, so you have to put all efforts to fight and survive. This game is designed in impressive graphics with detailed visuals and awesome sound effects.
You will feel the thrill of the combat with the fire sound and the rush of the footstep. All of those brings a realistic gaming experience that you hardly find in other games of the same genre. Check it out if shooting game is your favorite genre. There are also various choices that are worth to play such as Bunny Storm and Fish Eat Grow Big.
How to play: Arrows/WASD to move, Space to jump, V to crouch, 1-3 to switch weapons.
www.friv.land
Rating:
4
out of
5
based on
6
user ratings