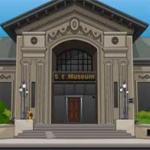 Steal The Precious Pen
Have you ever tried a real escape game? This kind of game is fun and suitable for players who love exploring and solving puzzles in a large set. However, if you don't have the time to actually go to a game center, try out this virtual version of escape game from Friv land 2018: Steal The Precious Pen. Many players have tried this enchanting click and point game with the main character, Lee.
This is his sixth task in which he needs to go to the museum to steal the precious pen. The only information that he has is that the pen is somewhere inside the museum. So let's start the journey and break into the museum to help him out! With interactive games like this at http://www.friv.land, you need to observe and find the useful objects around the museum which you can interact with. There will be more and more puzzles hidden in such objects and it's your duty to solve them all. For example, when you interact with the board in front of the museum, you will find an electric board which allows you to shut down the camera and the door lock.
Solve those puzzles and you will be able to get into the museum without being noticed. Don't miss out on any hidden doors and boards to discover all the hidden puzzles around the museum! Various challenges which vary in themes will spice up your free time with the games such as Robot Ice Dragon and Ouch Finger
Instructions: interact and choose using your left mouse.
www.friv.land
Rating:
2.8
out of
5
based on
5
user ratings