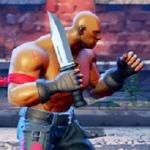 Steel Fists
In this dark city which is full of scary criminals, you need to be strong and stay sharp whenever you walk on the streets in order to protect your self. In Friv play's fighting game: Steel Fists online, you will get a chance to play the role of a big, tall and muscled guy who has the special power of steel fists. With his strong fists made of steel, he is the hero that this city needs! Therefore, let's start a new journey and eliminate all the threats now!
This is the perfect game for the boys to learn the fighting basics and release some anger while punching and kicking the enemies. When you first entered the game, there will be a detailed tutorial to guide you through the stage of the game. You will learn how to pick up the weapons along the way, control the movement of the character to kick, punch and hit the enemies before they have the chance to counter-attack.
As you successfully take down an attacker, you will be rewarded with the food for health and weapons. However, the game is not that easy. As you progress further into this game, you will get to go head to head with a big boss in the last few stages. It's time for you to show them who rules the streets! Only the best fighters can survive these battles at http://www.friv.land/Come and try out some fighting games with cool graphics like Ant Man And The Wasp Attack and Dragon Ball Battle
Instructions:
Use arrow keys to move
Z to kick or grab the weapons
X to punch.
You can unlock the mouse sensor using the L key as well.
www.friv.land
Rating:
5
out of
5
based on
3
user ratings