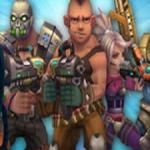 Storm City Mafia
Another amazing game has just arrived at friv kids. Which genre do you expect? It's a cool and challenging shooting game. Welcome to Storm City Mafia - where you are alone deal with hordes of enemies equipped with advanced weapons. How can you kill them all and get a reward? You play as a mercenary who is hired to clean the city. Mafia gangs are growing strongly in the city. they cause a lot of trouble.
If no one stands up and sweeps them out of the city, they will rule this place soon. You are hired for this mission. In this entertaining shooting game, you are offered various missions. Each requires you to do a certain thing. For example, in the first mission, you have to kill 100 enemies, and in the second one, you have to destroy 10 swat vehicles, destroy 6 gun turrets and so on.
On http://www.friv.land, you can shoot like crazy and defeat all enemies by using guns or grenade. Sometimes, when you are tired of shooting, you even can get on a car and drive to crash a bundle of enemies at the same time. When you get shot, let's collect health items to recover. With each killed, you earn money. When completing a certain mission, you get a reward. This game has an easy to use control mechanism and colorful graphics which add more fun into your gaming experience.
Don't forget to shoot at the boxes on the battlefield to collect more weapons and useful items. Once you step into this game world, you can't leave for sure. You should always know that there are tons of games waiting for you on our site. Check out Great White and Stack Ball. if you have time.
How to play: Arrow keys/WASD to move, E to use the vehicle, Z to throw the grenade, Space to jump.
www.friv.land
Rating:
3.7777777777778
out of
5
based on
9
user ratings