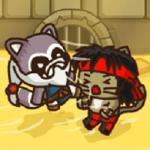 StrikeForce Kitty 3: League
StrikeForce Kitty 3: League is an awesome online tower defense strategy game in which you have to defend your castle against an army of raccoons. They want to dominate your lands. You can't let them fulfill their evil plan. Set out the new adventure and fight along with your kitten forces in the hope of defeat the whole enemy forces before they step in your castle at free online juegos games.
In the beginning, you start with basic units. Gradually, you can unlock more heroes, skins and more. With each killed. You earn coins and use coins to upgrade the stats of all characters to enhance their abilities. So, they can deal with stronger enemies. Waves after waves evil raccoons are coming to your realm. You must deploy the best fighting formation to kill them all.
Archer, knight, healer, mage, there are many characters for you to choose to form your army. On http://www.friv.land, as you advance in the game, much stronger enemies will come. You can throw grenades from the tower or demand your forces to attack them directly. At the end of the battle, the boss will appear. The boss is the strongest enemy, so you have to use all forces and focus on attacking it.
Show them who the real ruler of this realm, show off your power and strength, crush them into pieces and enjoy the process. This tower-defense game is simple but challenging at the same time. With a little bit of luck and your wit as well as wisdom, you will win. Test your strategy skill in other awesome games such as Frozen Sisters April Fool Joy and Moana Ruffles Ftw.
Controls: Use your left click to deploy your troops.
www.friv.land
Rating:
5
out of
5
based on
2
user ratings