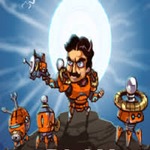 Tesla: War of Currents
You are engrossed in Tesla: War of Currents of Friv.land. Command an army and become a powerful leader. Use thunders and lightings to terminate rivals. Tesla: War of Currents game elates players for sure in frliv. Stay in the zone to complete all missions. You get praises after winning. Aim for the stars.
Tesla: War of Currents free game is so exciting on our website. This is a strategy game. You will finish the tutorial with companion Iron Kitty. You see a map showing the battleground. Look at it to realize the situation. You can change the speed of the game. Challenge yourself with fast attack waves at frliv games. You are Telsa with your army of three fighting robots. You will hold the gun and shoot rivals. Knock them down. Collapse their towers.
The game has a series of missions. You the first mission is to reach the flag point without dying. You may change the direction of Telsa to move to the enemy station. There are tracks and zones on the map. You go on the roads and fire. Opponents are in the areas. You shall aim at them and shoot them down on frliv player games. Take their life away to get points. You own 5 points if you destroy one enemy.
You can gain many achievements if you finish particular missions. You get achievement Alien after unlocking the first secret unit. You have a bonfire after unlocking the second secret unit. You are Great Looter when exploding 10 boxes. You become Domination after killing the boss. You are the Master if you collect enough 45 stars in frliv online games. You are First Blood after killing one enemy. You are Magnet if you collect 20 skill cards. You are Destroyer after killing 100 enemy towers. If you purchase 25 towers, you are Great Leader. You are Super Arsenal after maxing out the squad to 6 units. You have a Bag of happiness after earning $10000.
Comment, rate and share this game! Find other games like Souichiro Master Blade, Civilizations Wars, and Bug War 2 at http://www.friv.land/.
Controls:
Use arrows or W A S D to move.
Use the mouse to observe the map.
www.friv.land
Rating:
1
out of
5
based on
4
user ratings