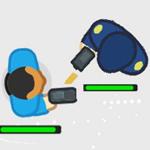 The Mafia Club
Sometimes you want to become a bad guy, don't you? Then, you can beat others or steal something and break the rule. It's time to fulfill your wish. You are a crook in The Mafia Club - a place gather the best crooks in the world. You may wonder what you are going to do here. Well, your mission is to become the richest and strongest crook all the times. In this online shooting game, you compete against other players come from all over the world. You and they will race for the no 1 in the leaderboard at Friv 2018 action game.
Yes, let's defeat your opponents to dominate the leaderboard as the greatest crook in the world. This game is quite similar to some IO games as you move around the map to collect as much money as possible and kill other players to become more and more powerful and much richer. Because it's a multiplayer game so it's high competitiveness. You should shoot down anyone appears on your way to eliminating them without showing any mercy. Take action quickly before they kill you on http://www.friv.land/. You don't want to be eliminated too soon, right?
Both stay focused on collecting many as well as the defense to have a better rank on the leaderboard. Plan some strategy to outwit other players. The money is yours, the no 1 of the leaderboard is also yours. The problem here is what you will do to take it all. Have fun! Fight for your glory and victory in other awesome games like Gun Battle Royale and Sniper 3d City Apocalypse.
Controls: Use arrow keys or WASD to move. Aim and shoot by using your mouse.
www.friv.land
Rating:
4.25
out of
5
based on
4
user ratings