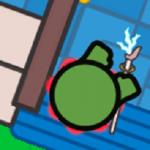 TheLast .io
Battle Royale game combines with IO games created amazing multiplayer battle royale IO game called TheLast.io. Like its name, the goal of every player is to become the last man standing. You may feel overwhelmed because, at the start, you find yourself and other players in a huge dragon nest.
You are unable to attack or do anything. Be patient and wait until the dragon drops you on a battlefield. At that moment, you know that the game starts. When you land, you start finding weapons and useful items right away. Watch out all players and avoid them until you have weapons to deal with them at http://www.friv.land/. Move around the map and find weapons. You have 6 slots to store your items.
There are many weapons that you can use to kill your enemies such as gun, boomerang, cannon, hammer and more. Fruits are important items that you have to have some on your storage because it helps you recover the health if you get shot. Eat fruits to recover your health completely and keep fighting. On friv 2019, dealing with many opponents at the same time is not good. You are better to cover yourself or run away to keep your life safe.
During the battle, you can switch between the weapons and look for more items. The battle is challenging and fierce. Combine the attack and defense to achieve the best combat results. Fight against other players around the world and have fun. Good luck! Challenge yourself more with other choices of games such as Mini Royale.io and Braains2. io.
Controls: Arrow keys/WASD to move, Mouse to aim, left click to attack, Space to use power, E to pick up items, 1-6 to choose items.
www.friv.land
Rating:
4.3333333333333
out of
5
based on
3
user ratings