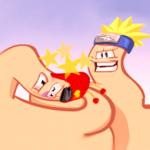 Thumb Fighter
The final thumb battle between Margaret and Soldier has started! Which team will you choose? Margaret is an old lady but she has some impressive skills. Soldier is a young man with enthusiasm and power to fight for a long time. Each has its own characteristic, but which one will win? This Friv game is the game for two players to play at the same time on the same keyboard. Therefore, in order to enjoy the game, you can call a friend to join you in this exciting kid game. All you need to control the character is one button. Since the control key is simple and easy to understand, players of all ages can enjoy the game at http://www.friv.land for free.
The game is inspired by the concept which is full of action and humor. Not only will you be able to show off your technique in thumb battles but you will also have the most memorable time with lots of laughter. First, you need to choose which character you would like to play as. Just keep on clicking on the button to hit the opponents as fast as possible. There will be an energy bar on the top of the game screen which shows both your and the opponent's energy levels.
By keeping track of this information, you can utilize your strength and choose the timing to knock out the other player! It's easy and fun, so after finishing this game, you can play more games like Dangerous Rescue and Bad Eggs 2
Controls: Player 1 plays with A key, Player 2 plays with L key.
www.friv.land
Rating:
4.625
out of
5
based on
8
user ratings