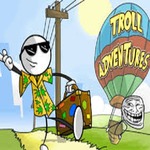 Troll Adventures
Troll Adventures is a funny puzzle game at Friv.land. You hit a jackpot when you receive a voucher for a free trip. You will have an alone journey. Be a joyful tourist and travel to a series of places of interest. You are going to explore pristine landscapes or dynamic city of Troll Adventures game in frivgame.
Troll Adventures free game can take you to the serene countryside and tourist traps. The game has twenty-four levels. You open them one by one. Win the level one to unlock level two. In the level 1, you need to check in in a hotel. You drop the light in the trash bin on frivgame 2018. The room becomes dark and a troll man appears and turns on a zippo.
In the level 2, a trollman is waiting for an explosion. A bomb is counting down and numerous explosives. You must cut the purple, yellow electric lines then touch the digital clock to stop it. Turn on the alarm button to tease the trollman. In the level 3, the tourist is taking a picture of Leaning Pizza Tower. The trollman will turns up and kick the tower down. You must hold the tower and stop him.
In the level 4, you are a fighter and competing with an opponent of frivgame online. Push the pedestal and make him fall down. In the level 5, you go to a gallery and use pieces from other paintings to create a new picture. You put 4 kinds of fruits into a bowl and cross the name of papaya on the note in the sixth stage.
Remember to make use of stuff and think creatively to solve tough situations. Wrack your brain by playing Trollface Quest: Video Games 2, Trollface Quest Internet Memes, and Trollface Quest TV Shows in http://www.friv.land/. Rate, share and comment on the games.
Instructions:
www.friv.land
Rating:
3
out of
5
based on
2
user ratings