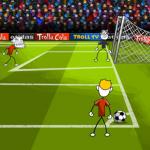 Troll Football Cup 2018
Most of the football games require your ability to score some penalties, kick and pass the ball, or have a great teamwork. But a new game with a new concept has just been added to the collection in Friv 2018 game. You can now enjoy an insanely fun game on the football court with Troll Football Cup 2018.
It doesn't matter who is going to be the winner of World Cup 2018 because when you play this game, Trollface will always win. Unlike the ordinary football games, this one is a hilarious point and click puzzle game for you to show your ability to solve many conflicts on the field. In order to win the game friv online, you have to solve each and every level before you get laughed at. Your task is to try to click on some random objects and people around the field to find out the way to stop the fight. It's crucial for you to think outside the box for a while because sometimes, the most stupid way is the perfect one to clear the stage.
Moreover, you will need to interact with the objects to complete the tasks. For example, you will need to make a perfect sculpture of Ronaldo, guide Messi to score a great goal, or stop Zlatan! Keep in mind that in this game, don't refrain from interacting with any objects. Are you ready to experience the football game like no other at http://www.friv.land? If you enjoyed this one already, you can check out some games such as World Soccer 2018 and Soccertastic World Cup 2018
How to play:

choose and interact with your left mouse.
www.friv.land
Rating:
4.1739130434783
out of
5
based on
23
user ratings