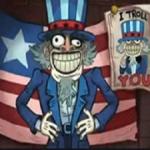 Trollface Quest: USA 1
Trollface Quest: USA 1 is a sequel to the famous puzzle game called Trollface Quest. Troll Face and his friends are in the USA right now and promise to bring many hilarious trolls. If you are brave enough to follow him, just start. Here at friv 2020 games online, you will play one of the craziest and funniest puzzle games ever. It tests your knowledge of famous characters in the USA. Will you be trolled or be the one who trolls them?.
This point and click puzzle game don't follow any rules. So you have to find a way to solve each puzzle yourself. Just click on every object around and find out how they work. Then you will fail or win. This game requires you to solve the puzzle in the current level to unlock the next one. The weird and bizarre situations can make your brain freeze as you can't find a way out. The puzzles are illogical and can't be solved in a normal way.
Think out of the box and try something unusual and you can be successful. On http://www.friv.land/, you can easily recognize some familiar faces from the famous actress, president to the leader of the top technology company. Don't afraid to troll them because they are also trying to troll you. When opening each level, you may find it hard to find a solution, but the best part of the game is to guess and randomly click on the unexpected thing and the result comes out is incredible. Mess around and have fun. Enjoy other choices of games such as Tank Off 2 and Duck Hunter.
Controls: Use your left-click to solve the puzzle.
www.friv.land
Rating:
5
out of
5
based on
1
user ratings