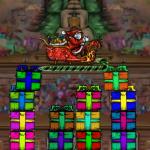 WinterSmash.io
WinterSmash.io - the name doesn't show its gameplay. It isn't a multiplayer online IO game that many people mistook because it's a fun and interesting puzzle game where you play alone and don't fight against anyone else or you must become the last man standing. Here at Frivland free games, the game's goal is to get Santa down flat on the floor.
Our lovely Santa is riding his sleigh but he gets stuck in the top of the pile of gifts. He wants to land but he can't. This pile of gifts is too high and it's higher as you level up. To help Santa get down, you strategically click on each gift to eliminate it and gradually help Santa land safely. On http://www.friv.land/, this may be simple and easy to do mission but it's really challenging. With a mistake, Santa will be flipped over or fell down. It also means you lose.
You help Sant and reindeers will help you when you are at risk. However, don't put all your trust in them because they will get you in an even stickier situation. The game tests your ingenuity and observation ability. The difficulty will increase over time and you will find it harder to help Santa. Why did he stick in the top of the gift piles? No one knows. They just know you can help Santa. Good luck! Enjoy more fun games such as Snowball.io and Snowar.io.
How to play: Tap or click on the gifts to destroy them. Click on the reindeer from the left and the right of the screen to summon them.
www.friv.land
Rating:
1
out of
5
based on
4
user ratings