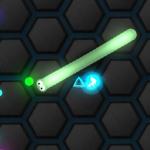 Wormania.io
Slither.io is the most famous IO game out there with the big success and attract millions or even billions of players around the world. Inspired by this big hit, many games look like that has been released with a twist in gameplay. This brings players more options to choose and enjoy and Wormania.io is one of these clones. Here at free friv IO game, if you get familiar with the slither and eat gameplay, you won't find anything strange in this game but immersed in the game world immediately.
Like other similar games, you control a neon worm and slither around the map to eat and defeat other worms. Before starting the battle, you are allowed to customize your worm with some color options and more advanced options for top players that you can unlock when you level up. On http://www.friv.land/, in the beginning, you must try hard to collect as many multicolored dots as you can to grow up. The longer and bigger you are, the more advantage you get. You can trap them with your body and eat their remains.
Slither flexibly to avoid hitting other players, otherwise, you die and have to start from the beginning. Besides eating the glowing dots, you also need to collect power-ups in the map. Each gives you different abilities like a speed boost or collect dots as a magnet, invisible, protective shield and more. Become the biggest worm in the battlefield and conquer the leaderboard. Play the game and see how well are your survival and gaming skills. Have fun! New IO games are added to our site daily. Check out Shotz.io and Snowar.io.
How to play: Control your worm by using the mouse.
www.friv.land
Rating:
3.6363636363636
out of
5
based on
22
user ratings