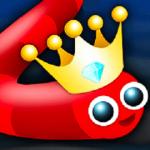 Wormroyale .io
Quite similar to Slither .io, Wormroyale .io is a cool multiplayer IO game where many worms around the world gather and compete with each other to dominate the battlefield. It is a battle royale with worms. Your objective at http://www.friv.land is to run over the glowing dots scattered around the map to grow longer and stronger.
Be sure to avoid hitting your head into other worms and the edge of the map, otherwise, you lose. The map shrinks over time, so it's better to move to the center of the map because it's the safe zone. Before starting the match, you can customize your worm with various choices of color. Choose your favorite one and show off your style. On Friv land free, you compete against other players for the victory.
Firstly, you should stay focused on eating as many glowing dots as possible to become bigger. For a while, you can use your body to trap other players, make them knocking their head to your body and die. Eliminated worms leave energies that they have consumed during the round. You should quickly absorb all these things to become longer faster. Be careful. Watch out all directions to avoid being killed by other peoples.
When you realize that you are at risk, you can boost your speed to escape safely. However, it also makes you drop energies on the map, so just use it if it's necessary. Each match lasts about 10 minutes. Within this period of time, try hard to become the king of worms. Good luck! More IO games are available and new ones are regularly updated on our sites. Let's check out Pie.ai and Rugby.io Ball Mayhem.
Instructions: Use your mouse to move.
www.friv.land
Rating:
3.6666666666667
out of
5
based on
6
user ratings