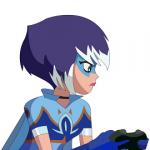 Zarya Moonwolf Mysticon Ranger
Zarya Moonwolf is a main character of Mysticons - a famous animated television series that many people love. And now, Zarya Moonwolf has appeared in a cool dress up game called Zarya Moonwolf Mysticon Ranger. If you don't know, Zarya is known for her purple hair. She always wears a blue jacket under a sleeveless shirt and of course, her outfit has a wolf symbol on it. It's time to change.
She doesn't want to stick in this original style anymore. She thinks it's time to get a new style and she needs your help. As her stylist at friv game 2019, your main mission is to mix and match all fashion pieces in order to create the best combination that makes Zarya stand out and beautify her more than ever. Sound simple and ss easy as pie, but you will be surprised by what awaits you ahead.
Why? Because there is a huge collection of outfits, accessories, footwear and more items available in the game. If you don't know much about fashion, you will find it hard to pick out and help Zarya. However, it doesn't matter to you, doesn't it? On friv.land, it's time for you to show off your sense of fashion and prove the world that you deserve to be the best style on this planet. Style her up with a new outfit, some matching accessories, a pair of boots and a fashionable hairstyle. Have fun! Discover about fashion world with these following dress up games: Newborn Baby Care and Chloe Bourgeois Dress Up.
Controls: Change Zarya's style by using your mouse.
www.friv.land
Rating:
3.75
out of
5
based on
4
user ratings