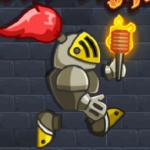 Castle Light
Light up the castle is not an easy mission. This job is as important as competing against enemies. You are a soldier but your mission is not to deal with invaders but light up the castle with your torch every day. Yes, you are the one who literally brings light to the whole castle. In an awesome platform game at friv for kids Games named Castle Light. You have to bring your torch to go to every room in the castle to light it up.
Each level is a room. In each room, there are 3 torches waiting for you. Each torch in a different position, so you have to jump, run and avoid obstacles to reach them. You have to light up 3 torches to finish the current level and unlock the next stages. After 3 torches are lightened up, the gate is opened and you can move to the next room. As you level up, you have to deal with more obstacles.
They threaten your life. So, people say that lighting torches are not an easy job. You must be careful and stay alert to overcome these obstacles and keep your life safe as well as finish your mission on http://www.friv.land/. There are several monsters live in some rooms in the castle. You don't have a sword to kill them. However, you can jump on them to send to the final resting place. Keep doing your work because the whole castle needs you. Have fun! Join other exciting adventures with One Hand Cowboy and Spongebob Quirky Turkey.
Controls: Use the right/left arrow keys to move.
www.friv.land
Rating:
5
out of
5
based on
1
user ratings