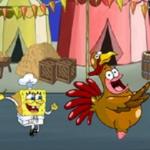 Spongebob Quirky Turkey
Thanksgiving is coming at the corner. Turkey is the favorite dish of Spongebob family in this special event. SpongeBob is going to hold a party in the evening and turkey is the main dish. Unfortunately, the turkey that he bought yesterday has escaped. He is chasing this turkey behind. As an animal lover, you must rescue this poor turkey by helping it run, avoid obstacles and escape from Spongebob in Spongebob Quirky Turkey at friv com Games play.
Are you ready for the long-running journey? Spongebob needs to catch this turkey. Don't let him succeed. All you need to do is to control this turkey run away. However, along the way, there are so many obstacles. If it hits to these barriers, it will fall down and be caught by Spongebob.
So, you have to make it jump at the right time to overcome these dangerous obstacles. How many points can you get in this endless runner game? What is your highest score? On http://www.friv.land, you don't have any power-ups to help you in the journey like in other endless runners. It's all up to your skills.
If you don't take action quickly, the turkey will be caught. This game has fun gameplay and beautiful graphics that suits all ages, even for kids. If you think it's time to do exercise. Let's run with turkey in this game and have fun at the same time. Discover more games available for free on our site such as Dumb Ways To Die 3 and Afterlife: The Game.
How to play: Click to jump.
www.friv.land
Rating:
4.25
out of
5
based on
4
user ratings