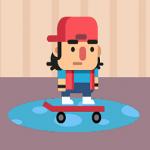 Tap Skaters Online
In the construction site, you skate in the zig-zag form instead of following a straight way. Your character moves automatically. Your job is to change his direction from left to right and right to left to avoid obstacles placed at the end of each platform. The skateboarding speed increases significantly as the game processes. You have to stay alert and focused all the time to keep him safe.
Tap Skaters Online at Games of friv is a fun one-tap control skateboarding game. You don't need to do any tricks with your skateboard to earn more money or extra coins like other games of the same genre. React and take action fastly are what you need to conquer this game. Why? It's because you have to click or tap at the right time and recognize the direction of your character right away to turn him into another side.
Otherwise, he will hit into the obstacles and you lose. Along the way, you collect diamonds to buy new characters. There is in a total of 9 characters on http://www.friv.land. Each has its own price and they don't have any special abilities to help you in the skateboarding journey.
It just likes a submission that requires you to collect all characters to switch between them. If you don't bother to use the basic character that the game offers from the beginning, just forget about collecting money and stay focused on avoiding obstacles to get the highest score. Hope you have a great gaming experience here. Don't forget to explore other amazing games such as Peppa Pig Jump Adventure and Balloon Pop.
How to play: Tap or click to change the direction.
www.friv.land
Rating:
5
out of
5
based on
1
user ratings