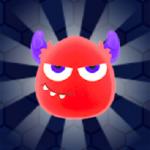 Slompkins Club
Small monsters will grow up if you feed them a lot of food. Do you love those things? Please play Slompkins Club online game at friv 2019. Surely you will love the game right now. What are you waiting for? Discover the game now to experience that amazing thing. Your task is very simple. Move the monster around and find the food they love. Slompkins Club is an exciting free online IO game about some kind of friendly monsters moving around eating food to grow.
Start controlling a cute little monster and absorb many delicious dishes to become the biggest and fattest monster on the field. Why should you gain weight like that? Because larger monsters can swallow smaller ones, so you really don't want to eat one of these creatures. Just grow as much as you can and go eat it all! Have fun with Slompkins Club! Extremely interesting game.
With vivid graphic design, the game appeals to players. Monsters' food consists of different shapes and colors. There are many monsters that appear in the game, you must avoid it. If colliding with them, the game will end. Be skillful to move, the bigger the monster, the harder it will be to move it. Make the monster really big, you will win this game. As you get older, you will be able to swallow other monsters and become the bravest warrior. Invite friends to join the game and don't forget to share interesting things in this game with them. And if you love this game, you can play some other games like Penguin .io and TheLast .io at http://www.friv.land/. Spend time playing games and you will have more relaxing moments in your life.
Control: Use the mouse to play the game
www.friv.land
Rating:
1
out of
5
based on
5
user ratings