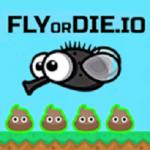 Flyordie .io
It's a real battle to survive as a little fly in nature. Can you help our adorable fly grow significantly in size in Flyordie .io game for kids? Despite starting off the game as a little, poop-licking fly, you can roam the neighborhood and interact with the other animals. The main rule is that you can absorb and eat the smaller species. Don't forget to avoid the enemies to avoid being eaten alive!
Let's eat as much as possible to become the next level fly, like a blood-sucking mosquito. However, the food doesn't come to you willingly. You will have to fly around looking for food to eat and keep evolving. Some typical species that you can eat are poops, insects, worms and small birds. It's crucial to look for a suitable type of food based on your condition and strength. Among many updates that the creators of this Friv game add, one prominent feature is the variety of settings and backgrounds.
You can explore the nature on land, on air and underwater as well. Each of the sceneries has its own range of different animals. Bear in mind that it's all about the adaptability in this kind of io game. Can you reach the top of the food chain at http://www.friv.land/? For more cool experience, check out some games with the same concept such as Krunker.io and Skywars.io
How to play:
move with the W, A, S, D keys and interact using the mouse.
www.friv.land
Rating:
4.7272727272727
out of
5
based on
33
user ratings